If you are struggling to get your head around the idea of nomcore, then overt your eyes now from alternative fashion's latest offering: the "Health Goth" trend.
Yes, you read correctly and no, this does not involve working out whilst dressed like Wednesday Adams as one may imagine. Rather, the trend presents a mix of Gothic silhouettes and modern sports luxe materials. So what is this new health goth all about and does it offer fashionistas a refreshingly uber-cool style or cult or is the outcome just plain weird?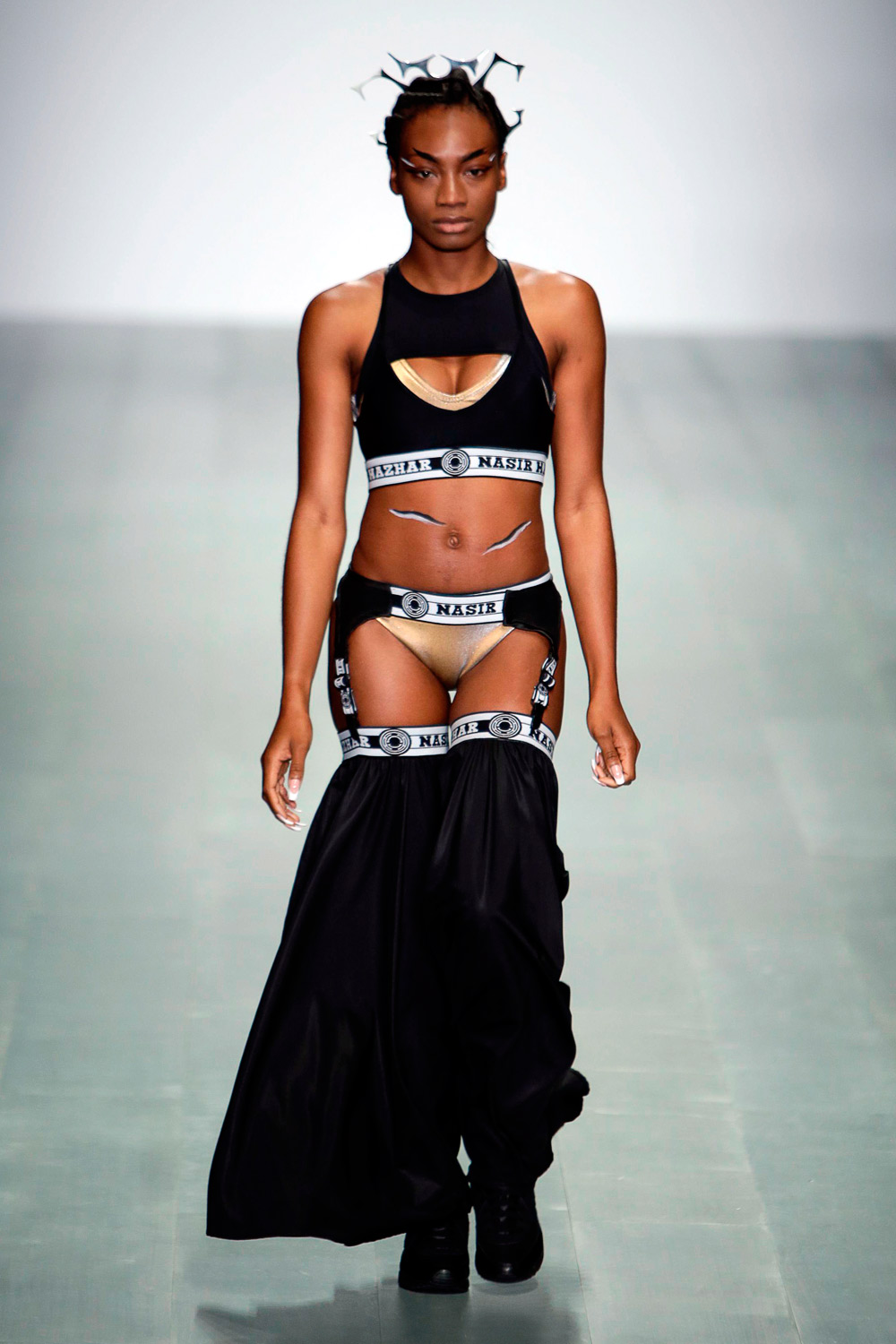 Nasir Mazhar's A/W collection. Image courtesy of marieclaire.co.uk
Always one to appreciate wacky and innovative fashion my first question is, "where on earth did this idea originate from?"
It turns out the concept behind the trend was born on a facebook blog created by American musicians Mike Grabarek and Jeremy Scott. The duo uploaded images of inspiration to facebook which embraced the futuristic fusion of monochromatic goth style and body con sportswear. In a recent interview with
Complex
magazine the pair claimed they were simply, "attributing a name to a feeling that already existed."
A feeling which has manifested through imagery which includes, "mesh moisture-wicking fabrics, BioWare, body enhancement, tech, prosthetics, shoe dipping, various fashion performance wear brands, transparent clothing, chains and light weaponry." Put more simply, a mersure between body conciousness and traditional goth style.
Alexander Wang x H&M. Image courtesy of H&M
Well, that certainly explains the Alexander Wang x H&M collection. However, I cannot decide if this trend is a stroke of sheer genius or lunacy. As a gym member with a bit of a soft side for gothic style I should be celebrating such a trend. After all, it supports healthy life style choices but, whilst I admire individual pieces from the Wang x H&M collection such as the scuba dress and cropped jersey jumper, the whole image seems odd and maybe that's the point.
Designers such as Wang and Mazhar are challenging our perceptions of subcultures. Admittedly, I, for one, do not imagine those who embrace the punk rock or goth look to be interested in sport and fitness. It may not be as outspoken as statements made by the likes of Chanels Karl Lagerfeld this season but the principle of challenging assumptions remains the same.
In that sense, I am all for it but that does not necessarily mean I will mixing my spandex leggings with a leather jacket and chained belt. However, such a trend can be embraced on a more subtle level and my recommendation would be to mix wetlook and leather fabrics, such as leggings or trousers with sports jersey tops or mesh fabrics.
So, what's your verdict? Will you be embracing the health goth trend this season?
Live by the catwalk, die by the donut,
C x